Visit all the highlights of the Mount of Olives and the Old City of Jerusalem with an amazing private guide.
Both the road to and around the Old City in Jerusalem can be very crowded. We use a separate driver and a luxury van to not only transport you safely while update you of the regional events of the last 3 millennia, but also release you of any stress and lost time of not finding parking or snailing in packed traffic.
Searching Availability...
Visiting all the highlights, including amazing views
This tour is 100% private and can be personalized.
Your guide will pick you up from your hotel in Tel Aviv or Jaffa.
Please note: a visit to the Temple Mount is not possible on Friday, Saturday and Muslim holidays.
The most enjoyable, convenient and safe way to see the Old City of Jerusalem is with a private guide.
We start on top of the Mount of Olives which has a great view over Jerusalem.
After an introduction of the city we walk down the Mount of Olives over palm Sunday Road to the Church of All Nations at Gethsemane, at the bottom
In the Old City of Jerusalem we will walk through the different quarters, through the Arab Souq and will visit:
The Western Wall
The Cardo
Golden Menorah
The Temple Mount (Golden Dome of the Rock) (not on Friday, Saturday)
The Via Dolorosa (only last stations)
The Church of the Holy Sepulcher
For non-Muslims it is not possible to enter the Dome of The Rock.
---
What do others say about this tour to Jerusalem on Tripadvisor?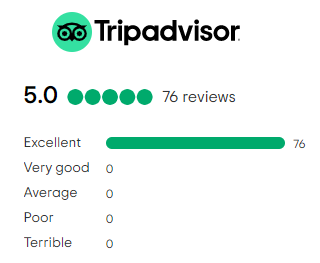 All-inclusive tour full of enthusiasm
Really nice and comprehensive tour; seen all the highlights and even coffee stop and lunch were properly arranged. The tour guide Itai made sure to tell and show us everything and elaborate on the parts that were the most interesting. You could tell he enjoyed giving the tour by his enthousiasm. 10/10 experience, would recommend!
Quinten, Tripadvisor
Excellent Tour!
We feel very priviliged to have Leontine as our French/English guide. She's by far the best guide that we have ever had: enthusiastic, warm and easy to get along with. She explained everything well and clearly because of her curiosity and knowledge. Thanks to Leontine, we learnt a lot about history and culture. We highly recommend explore Old city of Jerusalem with Leontine!
Yung, Tripadvisor
Wonderful trip
We had a wonderful trip with a very good and enthousiastic guide. Although it was not the first time in Jerusalem, Chava managed to show us new things and had a very good background knowlegde.
We were never bored and very highly recommend her as your guide. You won't be disappointed!.
Christine, Tripadvisor
Five Stars Tour
Highly recommended !!! Our visit to Jerusalem could not be better thanks to Agustina Efrat services. Excellent tour guide, very professional that was very kind and approachable from the moment in which the contact was made until the end of the tour. Initially, she provided us with very good options for the tour and at the end we were extremely satisfied with everything she showed us. We learned so much during the tour thanks to all her knowledge, anecdotes and advice.
Ezra, Tripadvisor
Professional and Well worth it
This tour was not like the rest, the tour guide tailored the tour to my needs. I came to Jerusalem for its Christian significance and this tour not only contribute to my goal but went beyond my expectations. The tour guide creates a internet platform where photos can be shared. Besides the expertise and the individual service, I was well fed. All in all I will recommend this service to others
Lola Eade, Tripadvisor
A must ! Private day tour of Jerusalem
I had the pleasure to be guided by Gabi around the beauty, history, holiness and intrigues of Jerusalem . He provided me with a very personal and cultured view of this absorbing city, highlighting the religious and historical ramifications.
All subjects were discussed openly and I left with a sense of cultural, spiritual, erudition and mental satisfactions ... A must if you visit Jerusalem!
What a memory of a life time and experience .
Thank you Gabi x Valerie, Tripadvisor
Old City of Jerusalem with Menno
We have had a wonderful tour with Menno through the old city of Jerusalem. Menno knows everything there is to know about Jerusalem and Israel. He shared his knowledge on the history and love for Israel with us while walking through Jerusalem. We learned a lot during the day and found it to be very interesting. Menno was also very helpful and kind recommending other places to visit in Israel. We would definitely recommend anyone visiting Jerusalem to book a tour, and if you do, go with Menno!
Caroline, Tripadvisor
Leontine guided us
I had the great pleasure to visit Jerusalem with Leontine Cohen Pauka. She took us to places we'd never been before, and told us the most interesting stories. You could feel she understands well what she talks about and has you fascinated. Also she's very funny and kind. She took us to drink amazing coffee in the old city and we ate great food. Thank you for everything, we will be back.
Jogolanna, Tripadvisor
A different view of Jerusalem
A walk along the ramparts and a new understanding of some of the history of Jerusalem. Wonderful views and lots if places to see in the Old City. An amazing experience with a very knowledgeable guide. An interesting and tasty lunch in a local, non tourist, restaurant was a pleasant surprise. A great day with a very patient guide in Menno.
Sally, Tripadvisor
Click for more reviews about us on Tripadvisor or Youtube.
---
Start: Jaffa Gate (click for map), pick up at your hotel possible (depending on distance an extra charge can apply).
Price: $1200 per tour for 10 hours, ($200 extra on Saturday).
Private tour with an English speaking private guide exclusive for you.
All tour guides are officially licensed by the Ministry of Tourism of Israel.
Drinks and meals are not included.
Transportation is included with separate driver and luxury van.
Modest dress (no shorts or sleeveless shirts) and head covering are required for visiting holy sites.
Cancellation Policy: If you cancel at least 10 days in advance of the scheduled departure, there is 100% refund minus transaction costs. If you cancel between 4 and 10 days in advance of the scheduled departure, there is a 50% refund. If you cancel within 3 days of the scheduled departure, there is no refund.