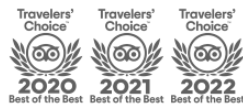 Below you can read the latest reviews we received, you can read the other 1000+ on our Tripadvisor page .
For our consistent and excellent service we have received a Certificate of Excellence for all the years since we started.
In 2020, 2021 and 2022 our Amazing Jerusalem Boutique Tour has been ranked as the Best Tour in Israel on the list of Top Experiences in the Middle East by TripAdvisor's Travelers' Choice.
---
April 24, 2023 we received a poor review from Amy
We do everything we can to avoid negative surprises. We are transparent in our communications with clients, do not hide anything that is in- or excluded on (day) tours and get great motivation out of the 1000+ of travelers that rated our services EXCELLENT.
Our day tour to Jerusalem is ranked as the best experience in Israel, if you are planning to book it please read what it is about first and do not book it just because we are the only one leaving on a decent hour.
This tour is NOT about the Zionist Miracle, as Amy expected, it is also NOT a shopping tour, we do not visit souvenir shops and it is also NOT a religious tour where we wait in line for religious sites.

Review of Amy
"The guide is not fond of Israel. He should not be in an ambassadorial position. Israel is a unique place. Find someone who can share the excitement of this complex and special country with such amazing history."


Reply from us:
"Hi Amy, It looks like you booked the wrong tour.
We are a group of Israeli guides, with different backgrounds, that for 5 years are working to give an excellent tour and according to our 1100+ 5-stars reviews, we believe we are doing a good job.

We want to clarify so others will not make your mistake and book the wrong tour: This tour is NOT an Israeli Zionist propaganda experience and nowhere do we write that. We did exactly what we promised to do; an historic tour, visiting amazing sites with a highly motivated expert guide.

We had multiple participants complaining about you, for trying to ruin the experience for both the clients and the guide, by provoking him.
We received 5-star reviews for the guide "…very good, passionate about history, very knowledgeable…" and compliments how he dealt with you.

We believe your review was not fair and it's damaging our reputation, it caused a steep drop in our ranking, and our source of income.
I hope you realize what you did and maybe want to reconsider that rating."